So, I had decided to try welding with either an arc welder (stick) or a MIG welder. I tried a little Mighty Mite arc welder and… well, I didn't like it very much. It was hard to scratch start and basically pretty much useless. I put it on the shelf – hasn't moved since and I still have what's left of a full box of sticks. Been over 15 years.
Next up – MIG welding.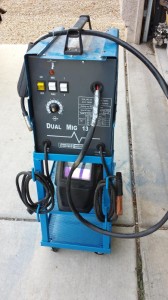 Much more bettah! This thing rocks! I still haven't gotten a gas cylinder for it – been gas-less since I got it. I haven't had a need to weld stainless yet so I'm not really missing out. Yet. Eventually I'm sure I'll need to get one but I haven't had a real need for one.
I had to teach myself to weld with it – wasn't too hard but to do well it does require practice. I've used it for everything from fixing my kids' bunk beds, spot welding AK receivers, radiator mount for the car, building my foundry, making a crucible. You name it, I've tried it.
One thing that I've never had though, is a cart. So, I made one. 🙂 It's not my best welding, I was in a rush, because I'm trying to make space in the garage. I like it though. My kids were hell impressed by it. The one thing that I did do was chop off the silly little shelf that was part of the base of the welder so you can mount a little tank. All it did was make the welder unnecessarily long so…bye!
Anyway, here are the spec's: