This project came about as a need to get a decent working crucible for my initial melts and to make ingots out of the raw materials I have, like hard drives and some car parts. I had wanted to make use of a stainless container that I'd gotten from my father-in-law. I still might, but I wasn't too sure it might hold up. What to do? Build a beefy steel one, of course.
I'd seen other examples of steel crucibles, like the one from one of my favorite sites at backyardmetalcasting.com. I knew I needed some kind of steel cylinder to make it out of but what kind? I looked around and while it would be nice to make it out of a used air cylinder but I couldn't come across any. My next option was a piece of well casing. It comes in different sizes and I figured out that I'd need some that was 8″ or close to it, to fit inside the foundry. I couldn't find any anywhere and then I came across an ad on Craigslist for Tucson Iron that showed a picture of well casing. I ran down there and found a section of 8″ ID 1/8″ wall thickness well casing, $24. Sold!
After taking some measurements I figured the height of the crucible should be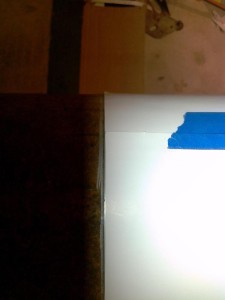 9 inches in height. First order of business was to cut a section of the casing to size. How to get a nice, straight cut? Here's a tip if anyone cares – get a piece of craft paper, mine is from WalMart and wrap it around the tube/pipe and line up the edges. As a result of the edges lining up and being parallel the edges the line around the tube/pipe is a true straight line and will be an accurate line to use. It worked perfectly! Next step was to bring out the grinder with a cutoff wheel and attack the casing. It took almost 1/2 an hour! That stuff is thick and tough. Bodes well for the final product!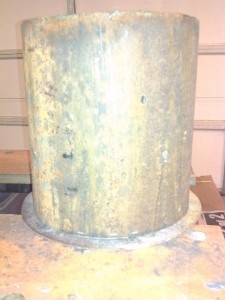 Here's a mockup of the cut piece on the 1/8″ inch circle what will become the base of the crucible. I ended up having to trim the base up to fit – used my Milwaukee band saw. It was like cutting wood – I love that saw.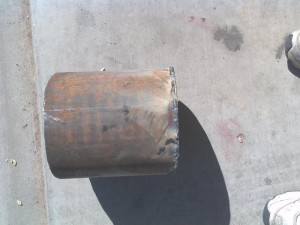 Next up was welding the base on. I put a fan on my MIG welder so I could extend the duty cycle of the welder and allow me to work for longer periods. A side effect of that is that the weld seemed to come out better. I think I'll put a fan on the welder to run constantly while the welder is on from now on.
I didn't think to take any intermediate pictures because I just wanted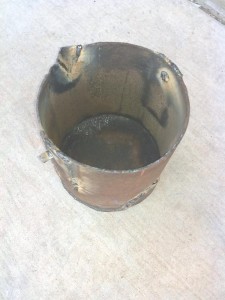 to keep working straight through. What I did next – I cut some sections of the well casing to reinforce the sides where I'd be adding the lift points and welded them on, drilled 1/2″ holes and welded in 1/2″ steel pins, added a spout made out of some angle steel, and added the lift point on the back for pouring. If you notice in the picture I hadn't welded on the rear lift point.
I m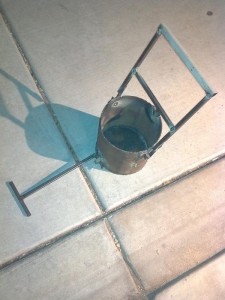 ade a lift mechanism that will serve dual duty – both as the lift mechanism and as part of the tilt mechanism to pour. I intend to lift the crucible out, set it down on a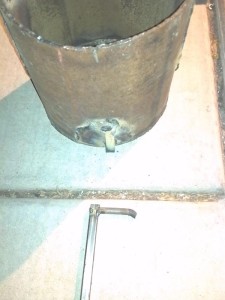 brick and attach the lift pin to pull the crucible up and then lift using the lift handle. Yes, I know it's not the safest, but it's going to have to work for now. I'll most likely end up re-designing the tilt part.
Here's a picture of the crucible, all snuggled up in the foundry. Next up – a set of tongs and a skimmer/spoon to lift contaminants from the crucible.